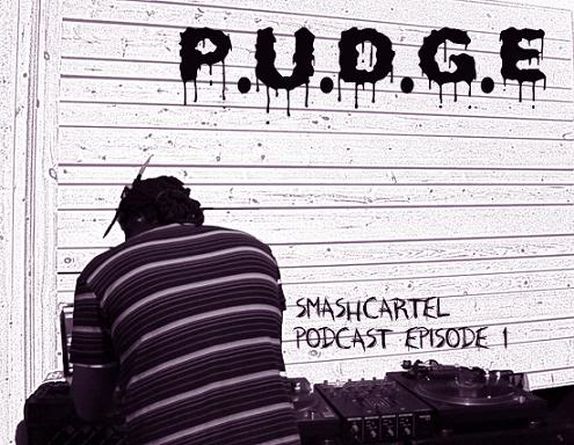 The goodfellas over at
Smashcartel
bring to the plate their first podcast episode with NYC/LA producer P.U.D.G.E !! After his successful split release with Dibiase on the All City 10″ and the debut of his full LP "Idiot Box", P.U.D.G.E drops by the studio to record a hard hitting mix!
The Greatest Song in the World – Tenacious D
Why Like This ? – Teebs
A.M. – PUDGE FT . SumKid
Renegade Slap – Dibiase Ft. DevonWho
The Nnnnuuuu – DILLA
RockWidit – Jneiro Jarel
Firelight – PUDGE
Ommadawn – PUDGE
Players Instr. – DILLA
Didnt Wanna Do it – PUDGE
The Day – The Roots ft. Blu, Phonte & Patty Crash
Eve – The Roots Play DILLA
Unbreakable – Eagle Nebula
Give The drummer… – DILLA
She Said I am the One – PUDGE
w/ Pistol Grip Pump(Volume 10) rmx
One Day – VerBS
Special Ingredient – Quelle of Crown Nation
Manik Mondayz – PUDGE
W/ It aint hard to tell (Nas) rmx
Dont Fight the Feeling – Slum Village Ft . Dwele
Da Duh Duh Funk(Walk 2 this) – PUDGE
W/California Love(2pac & Dr. Dre w/ Roger Troutman) rmx
Ehh? U Talk bout Done? – PUDGE
w/ Show me what u got for me(Busta) rmx
NeoPolytan – Pudge ft. Core Rythym & Eagle Nebula Prod. by Dibiase
Shango's Tango – PUDGE
Good Highbration – PUDGE
Rollin Papers – Domo Genesis ft. Wolf Haley of OFWGKTA
Fourthrees – DevonWHo (PUDGE flip)
More – Suzi Analogue
??? – PUDGE
Scene of Crime – Jon Waynne
Android Romance Pt. 1 & 2 – Jneiro Jarel
Kalimba – DILLA
Ionic – Elan ft. mndsgn
w/ World Famous (M.O.P.) rmx
Cant Be Stopped – VIshnu , Breezy n Pudge
w/ Fast Life (Kool G Rap ft. Nas) rmx
Your Summer Song – Exile ft. J. Mitchell
Sour Yummer – PUDGE flip (unreleased)
Gumbo – Curtiss King ft . Art Barz
1994 freestyle – Suzi Analogue
Computer Green – DILLA
Earl Flinn – Slum Village
Winicumaround – Redman
Illy – PUDGE
Wreck The Disco – O-Phrap & Fifth P
Strange Party – PUDGE
Clap Ya Busy Hand – PUDGE
Harvest Kartel – PUDGE
Secrets of Sound – PUDGE
Odd Todlers – Ace Creator ft. Casey Veggies
When i think about u – Indigo Pyramid
Solar Exposure – G.R.A.M.Z.
Porkpie Crust – PUDGE
Ind of the Worl – Camu Tao
Dill Was on the Beat Box – DILLA
w/ Vomit (MF Doom) rmx
Download it here
(Right click to save)