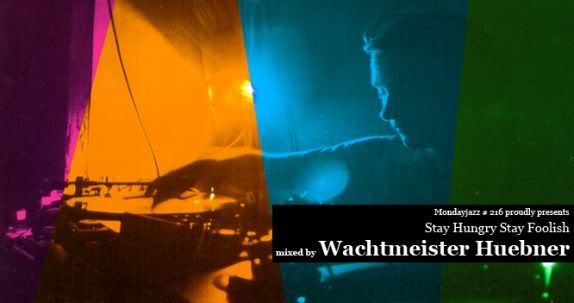 The cats over on
MondayJazz
continue to add to their already vast anthology of tapes and the breadth of music continues to expand. Here we have the latest 4 installments, each with their own story to tell.
First stop is East Berlin, which strangely transports us back to 1970s New York courtesy of the vibe created by
Wachtmesiter Huebner
Right click
here
, to download.
1. Toby Fichelscher & Günter Wilk - On Chano's Track
2. Monica Zetterlund - Take Five
3. Leon Thomas - Song For My Father
4. Jef Gilson Nonet - Suite Pour San Remo - Ouverture
5. Lorez Alexandria - Send In The Clowns
6. MaseQua Myers & Jami Ayinde - Black Land Of The Nile
7. Karel Velebny - The Loss Of A Newly-Found Son
8. Manfred Ludwig Sextett - Skandinavia
9. Werner Pfüller Quintett - En Avant
10. Letta Mbulu - What´s Wrong With Groovin'
11. Marta Szirmai - Bagira
12. Nara Leão - Cacara
13. Gustav Brom Orchestra - Waldmadchen
14. Mark Murphy - Why And How
15. Marco Di Marco - Camparenda
16. Mose Allison - Your Molecular Structure
17. Vince Guaraldi Trio - Linus And Lucy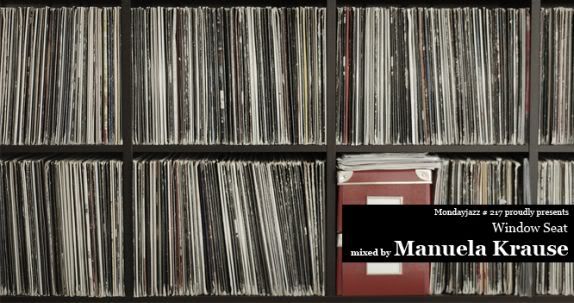 Next up we take a ride on a train of retrospective thoughts. A train that is undoubtedly a Jazz train, and one which allows for contemplation within after the cruel cleansing of the cold blooded lover that is winter.. This one comes courtesy of WMF club resident Manuela Krause.
Right click
here
, to download.
AGF& Craig Armstrong: Orlando-Writing Pitch And Depth
Portico Quartett: Amazon Exclusive-Window Seat
The Embassadors: Coptic Dub-Dagaz Eterna
Lilian Hak: Old Powder New Guns-Sleeping on the ceiling
AGF& Craig Armstrong: Orlando-For Ever and Ever Alone
Kerberbrothers Alpenfusion: Rising Alps-Die Alte Wally
Portico Quartett: Amazon Exclusive-4096 Colours
Fujiwara Daisuke: Jazzic Anomaly - Blue Lotus
Black Gold 360: LM6iX - Pay Dirt
Diana Panton: If The Moon Turns Gren - Reaching for the Moon
Francois Rabbath: Walpurgis
Asakawa Maki: One - Tokai Ni Ame Ga Furu Koro
I Black Gold 360: LM6iX - I´m Spartacus
Tied and Tickled Trio: La Place du Demon - Violent Collaborations Pt 1
Giovanna Pessi: If Grief Could Wait - You Know Who I Am
Czechobalt: Bird Song
AGF& Craig Armstrong: Orlando-Writing Pitch And Depth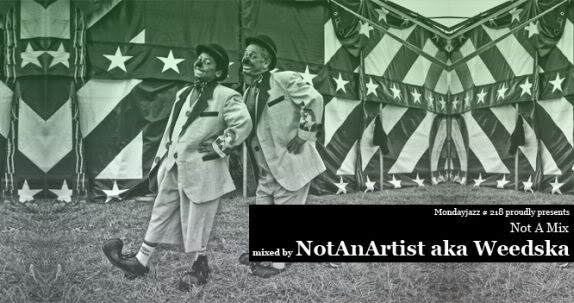 On to Lithuania we go for episode 218 where Weedska modestly states "This is not a mix and I am not an artist," though quite what you'd call an arrangement that incorporates Black Sabbath, Steve Reich and a tribute to Gil Scott-Heron without spiralling into a mess, I'm not sure. Kind of psychedelic, and kind of surreal, it continues the ascent into Spring.
Right click
here
, to download.
1) Black Sabbath - Planet Caravan
2) Dead Can Dance - The Fatal Impact
3) Haruomi Hosono - Rose & Beast
4) George Duke - Echidna's Arf
5) Tom Dissevelt - Syncopation (Alternate Version)
6) Steve Reich - Music for 18 Musicians (Marius Salynas Edit)
7) Matthias Zimmerman - Luther (Original Mix)
8) Woima Collective - Cavemans Revenge
9) ARGO - Playing With the Sun
10) Spirits Rejoice - Sugar Pie
11) J'Danna - Winter In America (Gil Scott-Heron Tribute)
12) Brother Jack McDuff - The Boiler
13) Paulinho Da Costa - Simbora
14) FUR - Ethio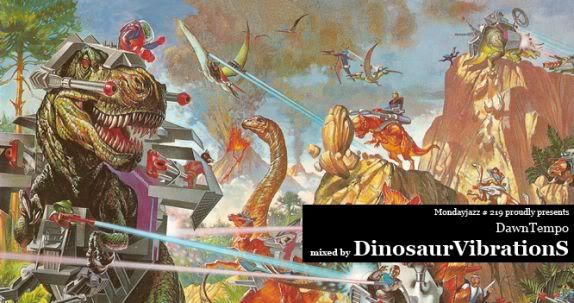 Finally, our journey stops indefinitely somewhere between Itacha, New York and the Cretaceous.
DinosaurVibrations
embraces melancholy and the milder sounds of instrumental hip-hop and jazz. Take a moment, divorce yourself from the rush and relive the moment.
Right click
here
, to download.
TokyoLove (outro)- Samon Kawamura
Destination Blue- Samon Kawamura
Vizions(make me feel)-0hbliv
Last Call- Samon Kawamura
Kaptchaa- 0hbliv
U-Nu-Samon Kawamura
Let's Do It- Samon Kawamura
EechDai-Knxlwdge
EechDai/Dreamy-Knx/J Dilla
You Are the Only One- Samon Kawamura
Primrose - Mndsgn
Leafs-Mndsgn
As We Come- Samon Kawamura
The Way You Love Me- 40 Winks
Candybox (interlude) - Afta-1
Vibed Out Feeling- 40 Winks
So What- Miles Davis
Black Dusty Radio - Ras G
Escapism- 40 Winks
Low Budget Style- 40 Winks
Elevation Through Music (interlude) - 40 Winks
Mood Adapter (prelude) - 40 Winks
Insomniac's Hideout (intro) - 40 Winks
Sampling vs Live Instruments (skit)-40 Winks
Primal Drums-40 Winks
Innerspace- Annu
I Got Him With My Needles - The Audible Doctor
Shake It Down (Instrumental)- J Dilla
Sexy Ways - J Dilla
Do It Be It See it Damnit! - J Dilla
To The ZZ ZZ and you Don't Stop - J Dilla
Outro- Samon Kawamura