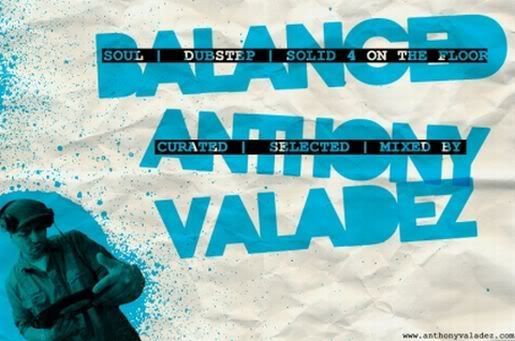 BALANCED strikes a unique harmony between smooth-soulful
and emotive-experimental! Masterfully layered, and thankfully not
too quick mix-schitzo! A calm, refined, inspiring treat! Have to say,
I've always been a fan of my young Bro, DJ Anthony Valadez.
- Carlos Niño (Build An Ark, Spaceways Radio
Also, stay tuned for Valadez's AUDIO/VISUAL remix album, where he's thrown in some of his old demos as well as a clutch of work with vocalists you'll know, dropping soon on
Recordbreakin' Music
.
Blundetto - Voices
Andreya Triana - Draw The Stars
Bilal - Levels
James Blake - I Never Learnt To Share
Hygher Baby - Let U Go (Asaparagus Remix)
Taylor McFerrin - Awake To You
Pacific Heights feat. Mara TK
Maylee Todd - Heartthrob (Circle Remix Remix)
Samon Kawamura - You Are The Only One
Stateless - Falling Into You
Raphael Gualazzi - Reality & Fantasy (GP Remix)
Nufrequency - Fallen Hero (Motorcity Drum Ensemble feat. Ben Onono)
Miguel Atwood Ferguson - Do The Astral Plane (Viola Solo Mix)
Flying Lotus - Do The Astral Plane
DVA - Just Vybe (feat. Fatima)
Ashley Thomas - Somethings Got To Give
Nina Simone - See Line (Recorded Live)
Machine Drum - Mean Mean
SBTRKT & Sampha -Evening Glow
Mount Kimbie - Blind Night Errand
Willie Rosario - Calypso Blues
Anthony Valadez Presents Balanced by anthonyvaladez