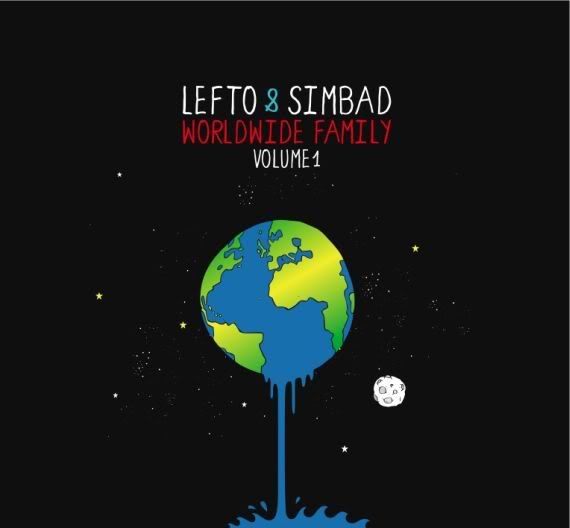 Worldwide Family is a new series from Brownswood Recordings that will see label head
Gilles Peterson
hand over compiling duties to trusted friends of the label in the pursuit of the perfect beat. And who better to launch this new venture into orbit than two of Brownswood's closest cohorts: Lefto and Simbad. Both gents are globetrotting DJs and respected selectors (with web-like worldwide connections) The compilation will feature new music From Onra, Tokimonsta, Exile, Seiji, Zed Bias, and many more.
Lefto is consistently a couple of steps ahead of your average early adopter. He doesn't wait for "the next shit" to land in his lap – he actively seeks it out. Just take a peek at his playlists for Belgium's foremost national radio station Studio Brussels. However, don't assume that he's only working futuristic angles – no sir. Firmly rooted in jazz and hip-hop, he sharpened his diggin' sensibility working at the now legendary Music Mania record store in his hometown Brussels. Lefto is forever moving forwards, but he's always got one ear in the past. Famed for his gloriously eclectic DJ sets, he skips effortlessly between dope hip hop, funk breaks, neck-snapping beats, future bass, classic reggae, bruk riddims and some of that wild bossa fire – all with an easy flick of the crossfader and a flurry of cuts. World renowned, Lefto regularly blesses sound systems from Tokyo, Seoul and Singapore to New York, San Francisco and Los Angeles. The fact that he can be equally at ease rockin' funk 45s at the Do-Over as he is flipping next level bass music at Low End Theory kinda says it all.
Following up on CD2 is Simbad, a young French DJ/producer whose deep set knowledge and experience belies his years. Turning heads with his debut album 'Supersonic Revelation' in 2008, he touched on retro soul, house and hip-hop but still succeeded in twisting the minds of the techno and electronica communities worldwide. His DJ sets celebrate the same approach – carefully weaving those strands together into one warm, groove-ridden thread – just check his mixes for
FACT
and
Brainfeeder
. Practically nomadic, he is constantly travelling between London, Tokyo, New York and Puerto Rico to DJ and work with like-minded souls such as Ron Trent, Robert Owens, Gonzalez, Tony Allen, Bugz In The Attic and Talvin Singh. Then there are his studio collaborations alongside dance music legends Zed Bias, Atjazz, Phil Asher and Karizma and a fat back catalogue of remixes for such prestigious labels as Freerange, Defected, Raw Fusion and, of course, Brownswood.
January 3rd 2011.
CD01 // Lefto
01 UpHigh Collective feat. Delvis – Blend (Revised) (Belgium)
02 Damage Is Done – Meeting Point (Germany)
03 Exile – Rake(USA)
04 Dela & The Headless Hunters – London Town (France)
05 grooveman Spot – Take Back (Japan)
06 Brassroots – Good Life (UK)
07 74 Miles Away feat. AHU & Miles Bonny – Same Dream Again (Belgium / Turkey / USA)
08 I.N.T. – Raw Funk (The Netherlands)
09 Karlmarx – Mists (New Zealand)
10 Onra – The Perfect Match (France)
11 TOKiMONSTA – Park Walks (USA)
12 Trilogy – Automata (France)
Lefto Preview ||
CD02 // Simbad
01 Airhead – Stilt Beetle (UK)
02 Illum Sphere – One For Dimlite (UK)
03 Steve Lynx & Hellrazor – I Don't Think So (UK)
04 Andreas Saag – Nobody Here (Sweden)
05 Greymatter & Klic – Thinking About You (UK)
06 Harrison Blakoldman – Full Speed!!! (France)
07 Afrikan Sciences & Kebbi – 5 Spot (USA)
08 Ave Blast & Cosmos Rodriguez – Glow In The Dark (France / Paraguay)
09 Kemeticjust feat. Terrance Downs – I Got Life (Justin's G-Tech Mix) (USA)
10 Cooly G – Gritting (UK)
11 Zed Bias & Eddy Ramich – Lost Elevator (UK / Croatia)
12 Seiji – The King (UK)
13 Kalbata – Silver Balls (Israel)
14 KU BO – Twist Up (Austria)
15 Chuck Maurice & Simbad – Summer Badness (Puerto Rico / France)
Simbad Preview ||