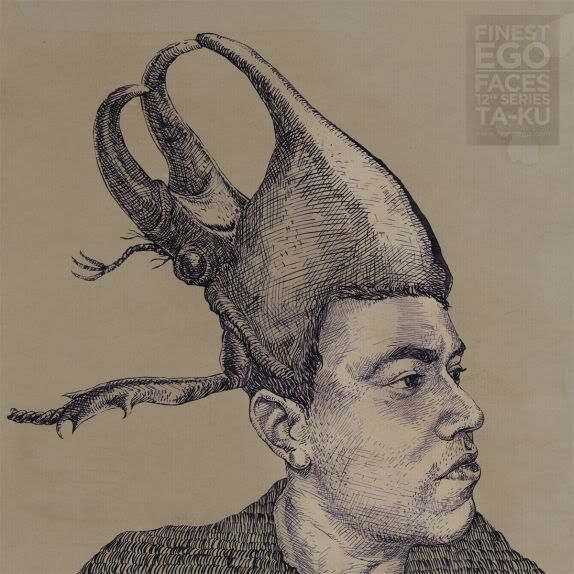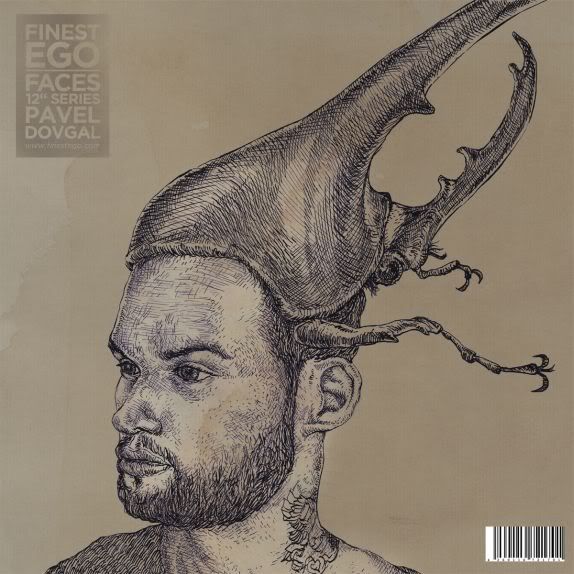 Project: Mooncircle
&
Finest Ego
have teamed up to establish a fresh new 12" producer series, entitled "Faces". On every edition, you will find two different producers. Respectively, each producer will have their own record-side and unique cover artwork by the aspring LNY, known for his surrealistic portraits, blending humans and animals.
The very first installment of the "Faces" series will feature the two prolific beathsmiths
Pavel Dovgal
&
Ta-Ku
. Coming from backgrounds which could not possibly be any more different – Ta-Ku has Philippine roots and grew up in Australia while Pavel was born in Russia and moved to Ukraine at young age – these two artists share a common connection through their relentless work-ethic and individualistic creative approach to making music. They have been fighting for international recognition with their extravagant beats, just like the Megasoma & Hercules beetles fight for female recognition with their extravagant horns.
Pavel Dovgal was born in Vladivostok, Russia and moved to Ukraine at quite a young age, where he realized that his true calling was music. His music is experimental, surprising, and daring and his talent and hard work have brought him local musical success. (The release in 2010 of his first solo album on Project Mooncircle turned this local success into international recognition.) Pavel's music is a trip into a fable and his medium is the music of different genres: Hip Hop, Dubstep, Glitch, Wonky and Downbeat, used to form pictures. His work is free spirited and there are hints of feelings, allusions, enigma and mystery. We won't get into the inner workings of his music, how it finds its way into the hearts and souls of the audience, the important thing is that it serves its purpose.
Recent Redbull Academy participant, Reggie 'Ta-ku' Mathews, has gone from strength to strength and has released a plethora of beat tapes and with releases set to drop in 2011, this future beat maker has a lot more coming and many more releases to unleash.
LNY is an artist living and working between New Jersey and New York. He makes art that is drawing based, social and open to the public in general; hence his drawings can be found pasted on buildings all over the world as well as in galleries and on 16-year-old kids' tumblrs all over the internet. He is one half of Doodledrag, a New Jersey based doodling collective and always welcomes collaboration.
As for the release, Dovgal is no stranger to this corner of the Interwebs, though you'll be glad to hear his sound continues to grow with each new release. His palette is opening up, giving his beats more room to breathe and evolve, giving them a somewhat organic edge. Ta-Ku is a completely different beast, creating more robotic, synthesized beats. The two play nicely off of one another. While both go in slightly different directions, they obviously have no compunction about nailing a groove.
Preview it below, and then head to the
Bandcamp
to pre-order.
Accompanying the release, comes the latest monthly mix from Finest Ego - seasonably curated by our man
Ta-Ku
.
Catch the
first
,
second
and
third
installments here.
01. Mndsgn ft. KnXledge & Suzi Analogue – Bananacase
02. Waajeed – Tetris
03. Teebs – Why Like This?
04. Full Crate & Mar – She Was Fly
05. Kan Sano – Dream In
06. RLP – LLL
07. KnXledge – Kanaloap(Layte)
08. Klipmode – Actriz
09. King Knut – Stavanger
10. Häzel – Twilight
11. M-Phazes – Piano Track
12. M-Phazes – Untitled
13. Tony Ozier – Back To The Mitten
14. 14KT – The Meaning
15. Swiff D – Gone B Alright
16. M-Phazes – Swaggeriffic
17. J-Dilla – Don't Cry
18. J-Dilla – One Eleven
Artwork by
Mei Swan Lim
Right click
here
, to download.