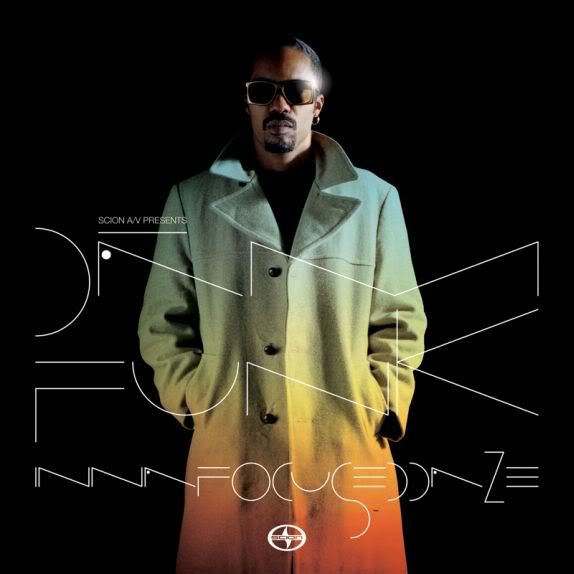 "Make no mistake, at heart Damon Riddick has a musically omnivorous bent, with an equal ardor for soul, metal, jazz, techno, disco, and rock. Ask him about Prefab Sprout or Todd Rundgren​ and turn your tape recorder on to remember the recommendations. But at heart, he is a funkster, both traditional and experimental, futuristic and nostalgic. The Gemini Twin, a master of duality. InnaFocusedDaze is the appetizer for his next full length, due next year on Stones Throw."
Los Angeles' funk evangelist, modern Galactic Warrior and ambassador of cool,
Dam-Funk
returns with his latest creations gratis composing four new songs - all original material on
Scion A/V
. Each song has its own distinct character, united by Dam-Funk's dedication to constant musical experimentation. If the freebies Dam's been delivering all summer haven't whetted your appetite for InnaFocusedDaze I don't know what to tell you! Aside from those, this marks his first real project since 2009′s expansive and impressive Toeachizown. InnaFocusedDaze sounds exactly like its title implies. It's hazy, fuzzy, and should leave you in a daze once you're finished spinning the brief, albeit great, affair.
Be sure to keep an ear out for dude's absolutely stellar guitar playing, which just might be a preview of what we can expect on the proper follow-up to Toeachizown. This serves as a precursor to that full length due to fall next year on Stones Throw. The 10″ shiny black plastic will be coming out soon but in the meantime preview below, and click
here to download
.
1. Forever
2. Don't U Know (That This Funk Iz Real)?
3. Inside Of U
4. InnaFocusedDaze