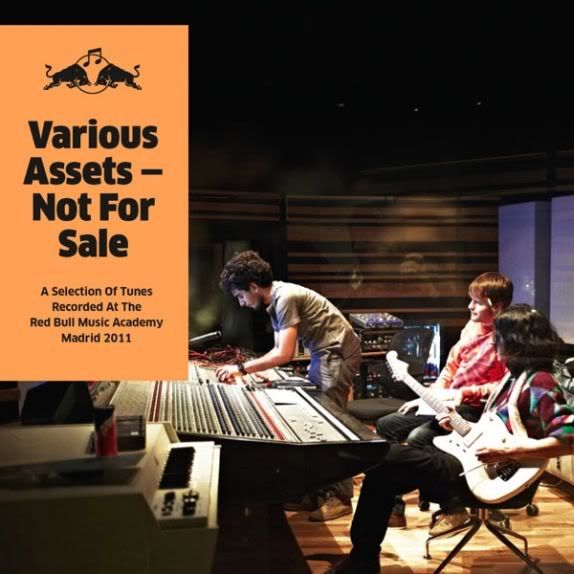 Having posted the talks/seminar's given by
Ali Shaheed Muhammad and Maseo
, you may have gathered that it's the time of year that is attributed to the Red Bull Music Academy application season. Now through April 2 2012, all aspiring musicians can apply for the now high profile and prestigious program. The grads of the 4 week event are well known and documented, as is much of their music. What this also means is that it's that time whereby Red Bull Music Academy get to assembling their annual compilation, this time featuring artists from 2011′s Madrid session. They're making the first 16 tracks available one track at a time, but the full 35-track "Various Assets – Not For Sale" 2011 compilation is set to drop on physical format well, sometime today, and digitally on the 27th February. Meanwhile, you can preview the 16 below, and read up about them
here
.
EDIT: Here's the link to the full set on Bandcamp.
As this signals the end of the Red Bull year, and dawn of a new one, there's also a mix to chart their ventures of the past year. Having been lucky enough to host workshops in far-flung places like Beirut and
Mumbai
witness full-on festival action from
Tokyo
to
Detroit
, and invite hundreds of amazing music makers old and young into their radio studio. In September and October, they embarked on a 10-stop World Tour that saw them dig in the crates of
New York hip hop
, re-think some of Italy's
cult movie themes
, and breathe new life into an
iconic recording studio
that once shaped the sound of a walled city named Berlin. All of this culminated in five magical weeks in a Jurassic-Park-like compound inside the Matadero Madrid, with 60 incredibly inspiring individuals from all around the globe, more than 30 nightly extravaganzas, and gazillions of musical memories.
Below are some of the tunes that accompanied them on the journey: all created by alumni of the Red Bull Music Academy. From dizzy disco to warped r&b, glowering beat montages to glittering house anthems, sun-drenched folk ballads to mesmerizing love songs, these are the sounds that tracked 2011 at Red Bull Music Academy.
Salva - Wake Ups - Tall Corn Music/Friends Of Friends
Sibian & Faun - I'm Sorry - Numbers
Hudson Mohawke - Thunder Bay - Warp
ANGO - All That You Can Stand - LuckyMe
New Look - Janet - !K7
Full Crate - Qcta - Wonderful Ear
Palmbomen - Secrets - NON Records
Torreblanca - Si - Arts & Crafts Mexico
Kaval - Seance - Das Drehmoment
Mano Le Tough - Stories - Buzzin' Fly
Andrea Balency Trio - El Desorden - Self-Released
Esperanza - Sirena feat. Banjo Or Freakout - Gomma
Axel Boman - Europa - Studio Barnhus
Tiger & Woods feat. Ad Bourke - Don't Hesitate - Running Back
Nina Kraviz - I'm Week - Rekids
Mr. Statik feat. Joshua Eustis - Ganymedes - BPitch Control
Mr. Beatnick - Synthetes - Don't Be Afraid
Cosmin TRG - Fizic (Original Version) - 50Weapons
Xxxy - Ordinary Things - Ten Thousand Yen
Nguzunguzu - Timesup - Fade II Mind
Brenmar - Temperature Rising - Hum + Buzz
Lukid - Park It Low - Glum
Om Unit vs Kromestar - Solar Cycle - Cosmic Bridge
Jesse Boykins III - B4 The Night Is Thru - NomaDic MuSic
Fatima & Floating Points - Mind - Eglo Records
Jamie Woon - Spiral - Candent Songs