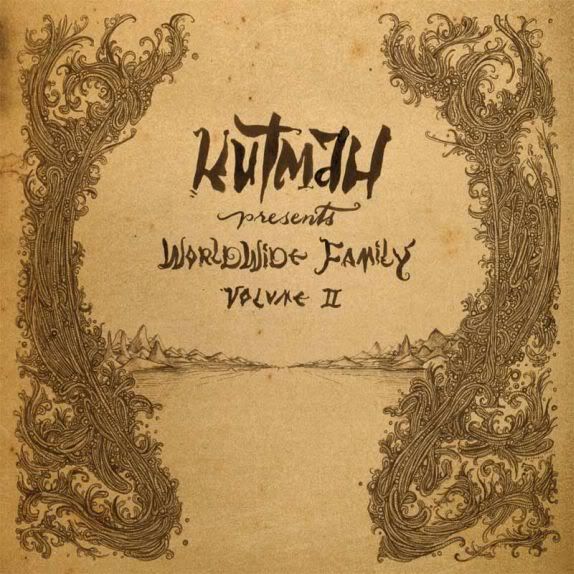 Kutmah
has been busy curating the second volume of
World Wide Family
over on
Brownswood
, with this one set to feature the likes of
Mo Kolours
, Groundislava,
Dibia$e
, Slugabed,
Hudson Mohawke
,
Mono/Poly
, Flako,
Dirg Gerner
and many more top cats.

Though he was born in Brighton, UK, Kutmah's roots are of course in LA's instrumental hip-hop scene, where he hobnobbed with artists like Flying Lotus, Ras G and The Gaslamp Killer, and started a night called Sketchbook Sessions, a precursor to the celebrated Low End Theory events. In 2010 he was, quite inexplicably, deported back to the UK, which he fought with a publicity push and a string of parties, but to no avail (he's lived in London ever since).
Preview the album snippet below, and keep your ears peeled for the full release. London heads, be sure to get down to the Earnest Endeavours, Kutmah's re-born Sketchbook night, on the
9th March
which'll have Gaslamp joining the party in what'll be seen as a joint double launch for this and Darkhouse Fam's 'In & Out' EP.
01. Mo Kolours - Ridda Mountain
02. Groundislava - Creeper Shit
03. ESMK - Blunt Hopes
04. Seven Davis Jr. - Thanks
05. Slugabed - Sex
06. Sam Irl & Ritornell - Three
07. Dibia$e - Remind Me Somethin'
08. Hudson Mohawke - Are You Feelin Hot?
09. Tehbis - Higher
10. Lapti - Leaving Home
11. Shash'U - LA
12. The Darkhorsemen - Taking Over Empires
13. Samiyam - Medallion
14. Mono/Poly - With Grace
15. Bruce Haack - Ancient Mariner (Jonwayne Remix)
16. Tadd Mullinix - Exchanging Modes
17. Flying Lotus - Samsfav
18. Dakim - Typeofblue
19. Doc Daneeka & Abigail Wyles - Tobyjug
20. Gaby Hernandez - Twin Flame
21. fLako - Lonely Town feat. Dirg Gerner
In & Out ||
A1 | Take On The World feat. Om'Mas Keith
A2 | Red Leather
A3 | Sticky Trees (Interlude) feat. Vanity Jay
B1 | Tartan Paint
B2 | Snaggletooth
B3 | Like No Other feat. B. Bravo
B4 | In & Out (Reprise)