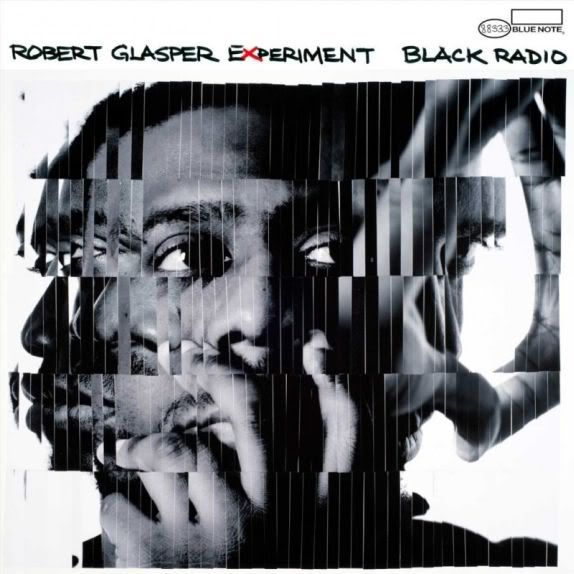 The fourth Glasper album is finally out there. When some of the biggest names in R&B and hip-hop are clamoring to be on a jazz record, you know you're dealing with a special kind of jazz musician.

Pianist Robert Glasper has worked in the traditional jazz-trio format before. But these days, he's incorporating all the sounds he grew up with in Houston: soul, rap, rock ... whatever feels good goes into the mix. With his band of Casey Benjamin (Sax), Derrick Hodge (Bass), and Chris Dave (Drums), Glasper's 'Black Radio' represents a clear progression from his fragmented 2009 offering 'Double Booked', which saw half an album dedicated to Jazz and half to Hip Hop
With him this time he's brought along a lot of chart-topping friends with him, including Erykah Badu, Ledisi and Lupe Fiasco. His band is the Robert Glasper Experiment, and its new album is Black Radio.
Glasper's regular band is joined by Erykah Badu (on a unique account of the classic Afro-Blue), Lalah Hathaway (Donny Hathaway's "first daughter of soul", on Cherish the Day), and R&B singer Chrisette Michele, who appears alongside Musiq Soulchild on the soul ballad Ah Yeah. Meshell Ndegeocello's pure sound is cushioned by piano, percussion and vocal overdubs on Consequences of Jealousy. Mos Def raps over Chris Dave's drums on the title track, before its ghostly withdrawal into whistling percussion. Casey Benjamin's vocoder feature on Nirvana's Smells Like Teen Spirit makes a fittingly mesmeric conclusion. It might not work for fans of Glasper's acoustic-jazz firework display at the 2010 London jazz festival, but this rare artist can straddle idiomatic gaps, and doesn't compromise to do it following on from the likes of what Roy Hargrove & Miles were doing in the 70s.
Simply put: Black Radio isn't just 'one thing'. Rather, the Houston native's latest continues on the same path as 2009's Double Booked: it's a dynamic recording of aerial soul compositions and unorthodox alternative rhythms, resulting in an effervescent glimpse into modern day jazz/rock fusion. But unlike Miles, whose uncompromised aesthetic delved heavily into expansive funk patterns, Glasper contends with contemporary RnB, building upon its stilted foundation with prominent backbeats and gentle keys, wrapping warped synths around more orthodox instrumentals. At times this music carries the same muffled grittiness as golden-age hip hop, even if the mood is oceanic and free wielding.
01. Lift Off Mic Check (Feat. Shafiq Husayn) 3:58 ||
02. Afro Blue (Feat. Eryka Badu) 5:13 ||
03. Cherish The Day (Feat. Lalah Hathaway) 5:53 ||
04. Always Shine (Feat. Lupe Fiasco And Bilal) 5:22 ||
05. Gonna Be Alright (F.T.B.) (Feat. Ledisi) 6:14 ||
06. Move Love (Feat. KING) 3:22 ||
07. Ah Yeah (Feat. Musiq Soulchild And Chrisette Michele) 5:13 ||
08. Consequence Of Jealousy (Feat. Meshell Ndegeocello) 6:12 ||
09. Why Do We Try (Feat. Stokley Williams) 6:32 ||
10. Black Radio (Feat. Mos Def) 5:26 ||
11. Letter To Hermoine (Feat. Bilal) 4:53 ||
12. Smells Like Teen Spirit 7:26 ||
Head to the
Record Store
to grab this one.