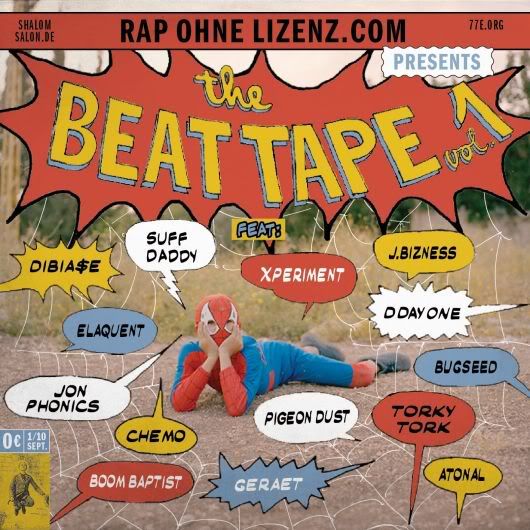 Ja! Dibiase ist ill.. Große Nummer wieder einmal!
German homies over at
Rhapohnelizenz
have just dropped their first beat compilation and it is chock full of heavy hitters in the production game. Brand new material from the likes of Xperiment, J Bizness, Jon Phonics, Bugseed, and more! Don't sleep on this one, if for no other reason Bugseed's "Break Of Dawn" is plain nuts!
No Fillers, only exclusives - clock that 'ish!
01. Boom Baptist – 8-Bit-Try
02. Xperiment Beats – Sound Barrier
03. Jon Phonics – Face Music
04. Chemo (Telemachus) – Dirt Digler
05. Das Geraet (Cutcannibalz) – Beck's
06. Dibiase – Choke Ya Hood
07. Anatol Atonal – A-tzeton
08. Torky Tork – Signal Rap
09. DDay One – Give And Take
10. Suff Daddy – Message Break
11. Boom Baptist – Asian March
12. Bugseed – Break of Dawn
13. Elaquent – Good Fortune
14. J. Bizness – Biz Reason 105 Nevermind
15. Pigeondust – Wingless Believer
Grab it from the bandcap page by clicking below.