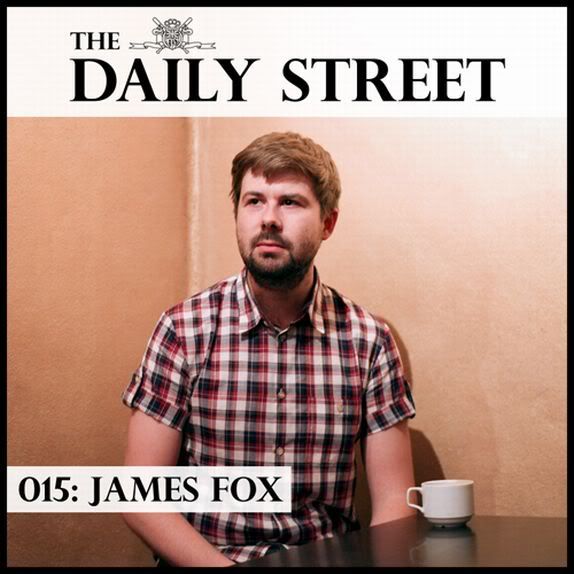 Fresh off the back of his hit release "New Jack Swing" on the brand new Well Rounded Housing Project,
The Daily Street
welcome
James Fox
to their mixtape series.
Over the last year James Fox seems to have rocketed and is now a rather familiar household name to most people into the House and Bass Music scene that's bubbling along at the moment. With his first release on
TAKE Records
receiving a remix from Ramadanman on the flip, he made a strong arrival. Moving on from that, his debut for the brand new sub-label of Donga's infamous Well Rounded too the scene by storm, easily making it's way onto the list of top tunes for 2011. It seemed like the perfect time to get James involved in the TDS mixtape series. Away from his music career, James is also a passionate man when it comes to fine clothing, loving nothing more than a good browse of Liberty's, so it makes twice as much sense.
For mixtape 015 James takes us on a smooth House trip that draws music from the likes of Maya Jane Coles, Photek, Julio Bashmore, Cosmin TRG and Doc Daneeka's super-exclusive unreleased remix of Skream's "Where You Should Be". Overall it's a very fluent mix that sums up what's going on in the UK underground House scene at the moment. Wise up your ears with this mix and keep them tuned for a remix for Jack Dixon & Robin Card which is due on TAKE Records very soon..
01. Kevin McPhee – One52 [Unreleased]
02. Deadboy – Heartbreaker (Julio Bashmore Remix) [Forthcoming Well Rounded]
03. Dorisburg – Emotion [Kann]
04. Cosmin TRG – Bijoux [Hessle Audio]
05. James Fox – Close Your Eyes [Unreleased]
06. dOP – I'm Just A Man (Jackmate's Rejacked Version) [Eklo]
07. Brawther – Do It Yourself [secretsundaze]
08. Skream – Where You Should Be (Doc Daneeka Remix) [Unreleased]
09. Maya Jane Coles – Little One [20:20 Vision]
10. Dennis Ferrer – Transitions [Defected]
11. Ike – Free To Fly [Philpot]
12. Photek – Mine To Give [Astralwerks]
13. Gel Abril – Spells Of Yoruba (Kaytronik Remix) [Strictly Rhythm]
14. Midland – Bring Joy (Youandewan's Warehouse Dub) [This Is Music]
15. Rhythm & Sound – Free For All (Soundstream Remix) [Burial Mix]
015: James Fox by The Daily Street
Click
here
to download.