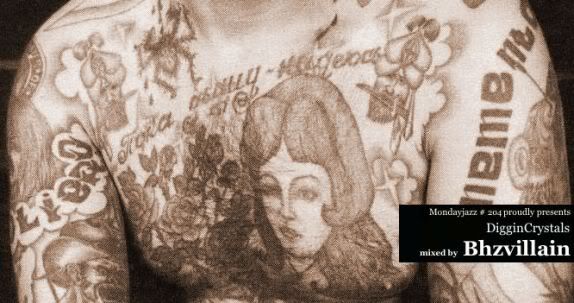 The hiatus through January meant that there was a Jazz shaped void left on the Mondays... To make up for it, here is a plethora of mixes courtesy of the gents over on
MondayJazz
that brings us up to date with episode 212 stopping off in Oslo, Australia and Aberdeen en-route.
First up #204 came from the heart of Russia, and more specifically from the heart of the Siberian cat
Bhzvillain
who tells us
"
I've cooked this mix for two reasons. One of them is to make you to want to get up and make some coffee and eggs for breakfast, then look in the mirror and see a shining smile. And the second reason is to present Russian music producers to the Europe. I think, a little of those producers are known there.
"
Right click
here
, to download #204.
01. Tommy Blunt - 9 утра (9 am)
02. Parfen - Last voice
03. Camel Crock - Piano Fool
04. OL - Mi Zdes (We're Here)
05. ManSkuzni - Smoke break
06. Pandus Dlia Invalidov - Wednesday
07. Naked Gang - 2ц (2c)
08. K.A.K.A.O. (+StUpor) - What You Do
09. vxlam - dudku-dui
10. Spher∆ k∆ - k∆fe
11. Космонавты - Дядькам (To Buddys)
12. Orlando15 - Perfect Day (Brushed My Thoughts)
13. Flaty - baydayz
14. Lingvisto - Believe the Sun
15. Ap6y3-vkashy
16. choco.bear - Та-Да (Ta-Da)
17. Ufmo - 25i
18. Loft Produxions - Soul Transfer
19. JGorsh - Bay
20. SunMan24 - Holiday
21. cardio rhythm - ▲bouty○u
22. Je - Просыпайся (prod. Mo'No)
#205 was from
Uraki Riddim
aka Alexander Horne. Horne) is a Scottish DJ and graphic designer who has organized the successful Drop (2011 - ) and DO IT!(2008 - 2011) club concepts in Norway and Aberdeen. This one encompasses skweee, hip hop and even some avant garde electro from the likes of Cabaret Voltaire, Mweslee, Daniel Savio, Shackleton, Dorian Concept and Onra as a bit of a homage to guests to have graced these nights.
Right click
here
, to download #205.
It Came From Uruk by Uraki Riddim
1. Nabo 'Intro (Brain)'
2. Don Papa 'Pol (Atmosphere)'
3. Ammon Contact 'Stab and Loop'
4. Wagon Christ 'Wake Up'
5. Kelpe 'Taps On'
6. Dorian Concept 'United Tree'
7. Tokimonsta 'BreadySoul'
8. Washed Out 'Before'
9. Hard Mix 'Upkeep'
10. The Blessings 'Moranis Riding Ants
11. Com Truise 'VHS Sex'
12. Arp 101 'Warriors Galactic'
13. Onra 'Moving'
14. Mweslee 'Variations pour CX Pallas'
15. Cabaret Voltaire 'Bad Self' (Part One)
16. Aardvarck 'BLooM 5'
17. Flying Lotus 'Zodiac Shit'
18. Paul White 'Alien Nature'
19. Dabrye feat. Jay Dee & Phat Kat 'Game Over'
20. O.Boogie feat. Tableek 'Paper Chaser' (Mweslee's Dolla Dolla Bill'Ya remix)
21. Ill Suono 'Angel Beat' (Dabrye remix)
22. Debruit 'Turkish ish'
23. Daniel Savio 'Monkey Pee Monkey Poo'
24. Beatbully 'Kosmisk Regn'
25. Chanca Via Circuito feat. Fauna 'La Revancha De Chancha'
26. Chanca Via Circuito'Puente'
27. Shackelton 'Hamas Rule'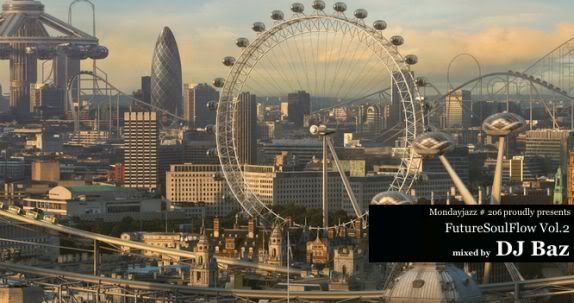 Back to Oslo, and
DJ Baz
who re-ups his second installment of the FutureSoulFlow mixes. Baz is the pilot of the space shuttle in which you're sitting right now. Look around. Planet Earth is the place we had all dwelled but it's cold and soulless now. It will be soulful again someday. This is how that rhythm of Earthcore will sound. Needless to say this one has got that delightful languidness about it.
Right click
here
, to download #206.
1.Bibio - Lovers' Carvings (Letherette Remix)
2.Sly Johnson - Slaave 2
3.Boho Fau - Feelin This
4.Oddisee & Trek Life - Still Never Rains Instr
5.Steve Spacek - Hidden Track
6.Flako & Dirg Gerner - I want you
7.Reggie B - 12Meaning
8.Dal Gren - Sexy Soul
9.Daru Jones - Tell me
10.Oddisee & Trek Life - What It Is
11.Eagle Nebula - Waiting
12.A Race Of Angels - We
13.Sly Johnson - I.S.A.R.
14.Letherette - In July
15.fLako - Humming
16.Ebrahim - Senioreeba
17.Unknown - 3 Sexxy
18.Zebrahim - Zoning
19.Donwill & Von Pea - Turkey
Over in Poland, Buszkers and Groh from
U Know Me records
/(
JuNouMi Crew
) bring some soon-to-be-classic beats and some expressions of their love to hip-hop.
Right click
here
, to download #208.
Ear Candies by JuNouMi crew
1. Stalley - Pound
2. Salva - Beached
3. Teielte - Selcouth (Liquid Molly Remix)
4. Modelesektor - Berlin
5. Hudson Mohawke - Cbat
6. Adam F - Circles (Philip D Kick Footwork Edit)
7. Notorious BIG - Goin Back To Cali (Eprom Edit)
8. Pac Div - Posted
9. Kidkanevil - ZoOoOoOp feat. Oddisee
10. LDFD - Twerk It
11. Lil' Flip vs Dorian Concept - I'm A Balla vs Trilingual Dance Sexperience (Patchwork Pirates Refix)
12. Canblaster - Clockworks (Teki Latex & ParaOne Remix)
13. fLako - Broken Toy
14. Machinedrum - I'm A Brat
15. A$AP Rocky - Get Lit feat. Fat Tony
16. Teielte - Fire
17. POLYP - One Two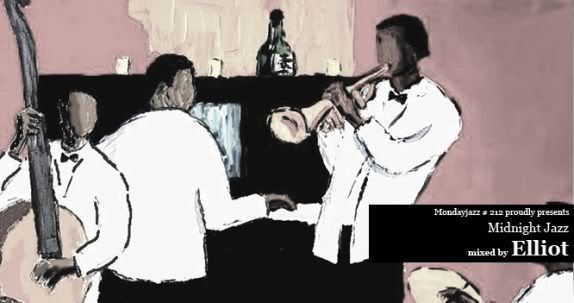 Finally, we are provided an Oasis of peace through antipodean cat Elliot and his gramophone. A very mysterious and inspirational dark jazzy trip this one, ensure that the lights are dimmed for this as it'll exude an experience of the arcane occult.
Right click
here
, to download #212.
Midnight Jazz by Elliot
1) Terra Subfonica - Daniel Blinkhorn
2) Trade winds, White heat - Tim Hecker
3) Faul - Bohren & Der club of gore
4) Munmorah - Trios meets Jan Jelinek
5) Flyktig - Pjusk
6) Pintar el sol (Chancha Via Circuito Remix) - Chancha Via Circutio
7) Phantom of the panther - Mulatu Astatke / The Heliocentric
8) The moving finger - Dorothy Ashby
9) Gol-E-Gandom - Lloyd Miller
10) Matovu - Bor'chu - Herbie Hancock, Thad Jones, Ron Carter, Jerome Richardson, Gade Tate and Jonathan Klien
11) Zoombah Lu - James Tatum
12) Untitled 4 - Daedelus & Teebs
13) Bamboo - Cristoph El' Truento
14) So we can move (Teebs Remix) - Exile
15) The roots - Long Arm
16) Warm Jazz rain - Elliot
17) Sherbrooke - Biosphere
18) Moment Returns - Triosk
19) Sketches of Israel - The Michael Garrick Trio
20) Why Can't I come to you - Patty Waters
21) If you love me - Shirley Horn
22) Goodbye Pork Pie Hat - Charles Mingus
23) Journey in satchidananda - Alice Coltrane
24) Song of the highwire shrimper - Tim Hecker
25) Piano wav - Machinefabriek